The Imperial Pub, 54 Dundas Street East
April 16th, 17th, 23rd, 24th — 8pm
April 17th & 24th — 10:30pm late show

Admission: $10 (cheap!)
Buy tickets now on our tickets page!
If we sell out, you're already covered!

Box office: 416-737-1267
or email headchimp@monkeymanproductions.com

In April, the company brings a collection of new short plays to the stage — and while several of the playwrights are new, I think the subjects (zombie invasions, superheroes, Lovecraftian horror and celebrity obsession) will feel right as bananas to the Monkeymen. Allow me to introduce to you
The Banana Festival
:
Special Musical Guest:
Chelsea P. Manders
Chelsea Manders is a BC-born Toronto-based Randomly-inspired creator/writer/musical individual. She has performed her original work on CBC Radio One, CTV/Comedy Network, Toronto Sketch Comedy Festival, Canadian Comedy Awards, CBC Winnipeg Comedy Festival, and was nominated with her duo with the fabs Hayley Gratto, The Black Roses, for the Tim Sims Award for best up-coming Toronto Comedian. She co-wrote/produced/performed and won Producer's Pick & Funniest show (London Fringe) for The Black Roses Foundation Tour 2006 and her 2009 Fringe Hit, Naughty Little Children, which she wrote/produced/performed, was called NOW Critic's Pick/Outstanding Performance 'Fringe at its Funniest' (NOW) and 'a fantastic voice, not to mention a wicked sense of humour' (CBC). She performed in Jerry Springer The Opera! (Hart House) Rhubarb Fest, City of Freaks and HYSTERIA! (Buddies in Bad Times), and featured on Three Takes (Slice Network) and How To Be Indie (YTV). www.myspace.com/chelseamanders

Monstrous Invisible is the strange and terrible story of the marriage between Howard Phillips Lovecraft and Sonia Greene. In a series of bizarre interludes, Howard tells a deeply personal tale of forbidden desires, lurking obsessions, and unfinished stories that only seem to lead to one maddening finale. But are the stars truly right?
Featuring
Leeman Kessler as Howard
Leeman Kessler, Science Fiction Professional, is a Nigerian born American living it up in Toronto with nothing but his rich, velvety voice and winning manner to recommend him. He has worked with Monkeyman on multiple occasions as a werewolf, a mountie, a King Kong and occasionally as an actor. Available for parties.
Tanya Lynne as Sonia
Tanya Lynne is pleased to be playing the role of Sonia in Monstrous Invisible. This is her first show with Monkeyman productions. She is a graduate of the Theatre and Drama Studies program at University of Toronto and Sheridan College. Other credits include Bianca in Taming of the Shrew and Woman in Terrorism, both for Royal Porcupine Productions. She was also seen as Helen in Alumnae Theatre's production of Baby with the Bathwater. She experienced her directorial debut with the successful production of Unwrap your Candy. You can also catch her twirling her tassels as a burlesque performer at many events around the city. Next for Tanya is playing the role of Katie in Shadow of a Boy for RPP at The Lower Ossington Theatre, this September. Watch for her comedy troupe Sticky Junk, coming to a venue near you.
Directed by Laura Roald
Hailing from Vancouver, Laura Roald is a director, writer and dramaturg whose work has appeared on stages and other unusual places across Canada. Favourite recent credits include Closer (Alumnae Theatre) Off Court (Trafalgar 24, Driftwood Theatre) and LaVicious (dark deeds theatre). The Banana Festival is her Monkeyman debut. Upcoming projects include a sabbatical year of writing and delivering a newborn human this July. Laura lives in Toronto with her husband, kidlet and cat.
Written by Stephen Near
Stephen is a Toronto-based playwright, performer, and educator, and a member of the Playwright's Guild of Canada, the Playwrights Theatre Centre (Vancouver), and the Council of Ontario Drama and Dance Educators (CODE). He has studied with Sheldon Rosen, Floyd Favel, Linda Griffiths and David Copelin. Stephen's plays include Quintessence (Reaching Symmetries Theatre, Finalist — 2000 Toronto Fringe Festival New Play Contest), White Lighter (Scripts In Progress), TEOTWAKI (Theatre Hybrid), Resignation Papers (New Directions Theatre), Shadow Court (In The Moment Theatre), Continuum (New Ideas Festival), and Out of Character (In The Moment Theatre). Stephen's hobbies include coffee, conspiracy theories, and shamelessly transplanting real life into his fiction.
BillyJoelTookMetotheProm.com is a story of adolescent friendship and the perilous pursuit of instant fame. Ashley and Lindsay have arrived at a book-signing for Billy Joel's autobiography and are confident that if Billy Joel takes them to the prom, they'll be set for life.
Featuring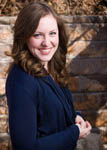 Merritt Crews as Ashley
Merritt Crews is, like, so totally excited to be returning to her 15 year-old roots for BillyJoel and to be working with the extremely talented Monkeymen(and women). Last spring, she graduated from Queen's University with a Bachelor of Arts (Honours) in Psychology and Drama. Some of her favourite credits include Aldonza (Man of La Mancha), Lucy (Jekyll & Hyde), and Ronny (Hair) with Queen's Musical Theatre, and Stevie (The Goat or Who Is Sylvia?) with 9Lives Theatre Company. Thanks bunches to the other 2/3rds of the Fantastic Three for this opportunity, to the Monkeymen, and of course her family and friends for coming to see her regression to teen-dom. OMG, I hope you totally enjoy the show!
Hannah Barnett-Kemper as Lindsay
A Toronto native, Hannah Barnett-Kemper studied at the Players Academy, as well as The American Academy of Dramatic Arts in NY. Hannah has worked with the Rebel Shakespeare Co and The Berkshire Theatre Festival (Mass, U.S.A.) as well as The Alumnae Theatre, Cabbagetown Theatre, the Village Playhouse here in TO. Hannah made her Fringe debut last summer in Fool Productions' Romantic/Fanatic and is excited to be working with the Monkeymen again.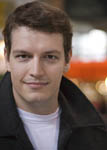 Directed by Martin Chodorek
Martin Chodorek is a founding member of Monkeyman Productions and could hardly resist the 'a-peel' of directing such a talented duo through Ms. Gordon-Solmon's play for this festival. He admits that, though his work as a director for this theatre company has put him face to face with a snarling werewolf, an epic space battle, and a giant radioactive-fire-breathing lizard, nothing could have prepared him for the terror that is a pair of celebrity-obsessed teen-aged girls.
Written by Tasha Gordon-Solmon
In high school, Tasha was banned from all theatrical productions for saying the word b-i-t-c-h onstage. Since then, her plays have been developed and produced at Ars Nova, the Public Theater, American Globe Theatre, the Alumnae Theatre, the O'Neill Theater Center, Freeplay Festival, Theatre in Her Shoes and Walking Fish Festival, among others.
Her writing has appeared in the Huffington Post, Haute Living Magazine and American Theater Magazine. Tasha is a member of the Ars Nova Playgroup and a Girls Write Now mentor. She received her MFA in Dramatic Writing from NYU, where she was the recipient of a Goldberg Fellowship in Playwriting. She is delighted to be a part of any festival with the word banana in its name.
Paul and Norma are like any couple. They love, they laugh, they argue when one of them is late for dinner. But they're struggling to keep a secret that could change everything: one of them just happens to be an established superhero! Do the problems of two little people stand a chance when the fate of the entire world is at stake?
Featuring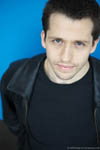 Kevin Robinson as Paul
Kevin is a graduate of the Sheridan College/UTM Theatre & Drama Specialist program. He is also a certified Fight Instructor with Fight Directors Canada, and a founding member of the multiple award winning stunt team Riot A.C.T. This means that he's awesome at the illusion of kicking the snot out of anyone and anything, without actually hurting anyone. In his spare time Kevin also enjoys performing fun (and sometimes silly) voices with Decoder Ring Theatre, playing multiple characters in their podcasts of Black Jack Justice and The Red Panda. Listen for Button Down Theo, and The Ogre at www.decoderringtheatre.com (your address for adventure) to catch some of his work. Kevin also likes to train at the Steeles West Gym with members of Ryouko during Monday and Friday Night Madness. This is where he hones his skills as a stunt performer, and moves ever closer to his life long ambition of becoming an actual super hero (all he needs is a wicked mutation and a kick ass costume). He is also currently working in his second season at the Stratford Shakespeare Festival as an assistant Fight Director on their productions of As You Like It and Peter Pan. If you want to know more about this amazing and versatile actor, check out www.riotact.ca; and follow _riotact_ on Twitter to see what him and the rest of the team are up to.
Adrianna Prosser as Norma
Adrianna is actually not a superhero but the girlfriend of one; she likens herself to Mary Jane Watson what with the acting, the red hair, and a boyfriend that is actually a stunt man (aka Spider-Man meets Wolverine in the flesh). But if she had to, she is Rogue all the way, Sugah. She is a graduate of the Specialist Theatre & Drama Studies program at Sheridan College & UTM. She also thinks DC comics suck except for Shazam!, The Killing Joke and Red Son. Coupled with her Honours BA, she has certificated as an Intermediate Stage Combatant with Fight Directors Canada, trained with The Toronto Circus School as a Circus Aerialist, and toured with her clown "Annabelle Bonnebelle" over most of Canada & the USA. She also thinks Harry Potter should be considered a superhero after all he's done for us muggles. Adrianna is currently employed as a Historical Interpreter with the City of Toronto where she enlightens children through theatre education programs about the Victorian Era at several city museums. She really enjoys teaching Bunraku puppetry to the volunteers for The Concerned Kids charity organization; so talk to her if you want to be a puppeteer. Adrianna has also written a theatrical experience with her friends at the Gibson House Museum to bring you the story of Catherine Flynn: an Irish immigrant to Canada during the Potato Famine of 1847. There are plans on bringing back this unique experience in 2010 so check out her website www.adrianna-prosser.com for any all details about this fiery redhead!
Written by D.J. Sylvis
D.J. is one of the founding members of Monkeyman Productions as well as the outgoing Artistic Director of the company, has produced or co-produced every one of their shows, and has written practically everything they've put on stage up to now. But really, getting a slot in The Banana Festival was just a coincidence. When he's not drowning in paperwork, he relaxes by beating his cats, playing videogames, and tracking the inevitable descent of our civilization into madness.
Unappreciated accountant Andrew has been in love with Maddy since the day that she was hired at his office, but the time was never right to ask her out. First she was getting over a break up. Then her friend Susan wouldn't leave them alone on a coffee break. And finally, of course, there was the Apocalypse. It wouldn't have been so bad- except for Jackson. Tall, dark and "wizard with a fire-axe," Jackson saves them both from certain doom, and it's just natural that Maddy should fall into the big lummox's arms. Now they're trapped together in an incredibly awkward post-Doomsday version of Three's Company, and the guy who never got to the top of the rope at gym class is going to have to tell the girl of his dreams how he feels… before time runs out.
Featuring
Tim Nussey as Andrew
Tim is a graduate of the Ryerson Threatre School, and a founding member of Monkeyman Productions. He is once again very pleased to be on stage in a Monkeyman show, and is excited to tackle his second zombie apocalypse play, The Second Last Man on Earth. Tim has recently appeared in the other Monkeyman shows, Godzilla on Sundays, Dead Man's Party (the first zombie play he appeared in), as Half-Ape in a reading of the upcoming Monkeyman show The Nefarious Bed and Breakfast, and as a doctor, a director and a pilot in Theatre of The Obsessed. Tim is glad to be working with director Phil Rickaby again, and is looking forward to having fun on stage with Monkeyman newcomers, Jack Morton And Melissa Zaccardelli.
Melissa Zaccardelli as Maddie
Melissa caught the acting bug in her home city of Montreal. She studied at the American Academy of Dramatic Arts, and has worked in various productions in New York, Los Angeles, and Montreal. She is psyched to be a monkey in Toronto.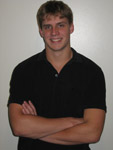 Jack Morton as Jackson
Jack is a student actor going into his third year of Theatre and Drama studies at University of Toronto Mississauga and Sheridan colledge. He is very excited to work on this, his first show with Monkeyman Productions, and to be attending the Banana festival. Jack was most recently on stage in the Theatre Erindale production of The Clandestine Marriage. Prior to this he has been involved in various theatre in Kingston Ontario, his home town, including: Macbeth in a Theatre Complete Production, The Man in Seven Stories with Blue Canoe, and Alexander in Collide with Just B.
Directed by Phil Rickaby
http://www.philrickaby.com Phil is an is an actor, geek and writer. Phil has been seen on stage in such roles as Randy in Out of Character at the Toronto Fringe Festival, Puck in A Midsummer Night's Dream, Touchstone in As You Like It, and was one of the co-creators of the silent film play, The Belle of Winnipeg. Phil has also recently been seen in the short films The Dragon and the Unicorn, Behind Closed Doors, and the Youtube favourite, So You've Decided To Be Attacked By Zombies. Previous Monkeyman credits include directing Dead Man's Party, and the role of Doctor Nefarious in The Nefarious Bed and Breakfast.
Written by Jordan Hall
Playwright and dramaturg, Jordan's recent writing credits include: Kayak (Tableau D'Hote New Canadian Works 2009, WPI Mumbai 2009, Winner: Bridge to a Cool Planet 2009, Shortlisted: Kernodle Playwriting Competition); Asleep at the Wheel (New Ideas 2009, Big Ideas 2008); Annie & Izzy (Antigone with Caffeine, 2008); Lifeboat (Toronto Fringe 2006); Reading Robertson Davies on Rangitoto, (NZ Fringe 2006); and June, 2007 (Prairie Fire Press), which received honourable mention for the Bliss Carman poetry prize. Recent dramaturgical credits include Keystone Theatre's Belle of Winnipeg; Oyster Production's Talk Sixty to Me (Summerworks 2008), Head of Dramaturgy for the 2008 New Ideas Festival; Oyster's verbatim/documentary hit Talk Thirty to Me (Toronto Fringe 2007); Ginette Mohr's Fish Face at the 2007 New Ideas Festival. Jordan is a member of both LMDA and PGC (Associate), and you can find her at www.jordanhall.ca
Festival Techies
Stage managed by Jessica Nelson
Jessica is a recent graduate of the Theatre Production Program at Humber College, and is excited to be tackling the Banana Festival (her second project) with the Monkey Men. Her first show with Monkeyman Productions was October's mounting of Godzilla on Sundays, at Bread and Circus, in which she got to wear a fabulous Godzilla suit. (Rawwwrrr!) Jessica's nerd-knowledge mainly consists of vampire stories, but she is working to build her understanding of comic books and video games as well.
Sound technician: Linn Øyen Farley
Linn is thrilled to be given the opportunity to reprise her most popular role, Girl with Legs Too Long for This Booth, last seen in October 2009's Godzilla on Sundays. Linn is a theatre production and design student at the University College Drama Program at UofT. Favourite pasttimes include and/or involve website design, inappropriately coloured clothing and bacon. Favourite credits: lighting design for As Five Years Pass (UCDP 2010), lighting operation for Godzilla on Sundays (Monkeyman Productions 2009), lighting design & operation for The (Abridged) Adventures of Ali & Ali and the aXes of Evil (UCDP 2009). Upcoming: lighting design for WOYZECK at the Lower Ossington Theatre (the red light district 2010).
Sound technician: Scott Clarkson
Happy to again push buttons in the literal sense, Scott has previously appeared in such Monkeymen productions as Wolf in the Fold, Final Flight of the Phoenix, and…Final Flight of the Phoenix. He looks forward to appearing in the next chapter of the Phoenix saga. (Fans of modern American theatre will note that this kind of tunnel-visioned repetitive behavior is how James Tyrone ruined his life in Long Day's Journey. At least he's in good company.)