"Broadcasting. This is Roger Bragado-Fischer,
Communications, Moonbase Theta."
A new podcast series from Monkeyman Productions.
It is 2098. The Moonbase program, owned and operated by corporate enclaves back on Earth, has been determined unprofitable. The last base, Theta, is twenty weeks from being decommissioned. Most of the crew is in stasis awaiting retrieval.

In a series of twenty weekly broadcasts, Roger Bragado-Fischer, Communications, counts down. Listen in and experience the stark beauty, the wry humour, the isolation and frustration, the romance, and the tragedy as the remaining crew members see the operation through to its scheduled end.
NOTE: Pronouns and Gender in Moonbase Theta, Out
Support us on Patreon – $5 and up patrons have access to the entire season today!
Subscribe to
Moonbase Theta, Out
Or subscribe with your favorite app by using the address below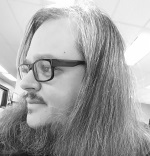 D.J. Sylvis
(written by, editing, pronouns he/him or they/them)
D.J. has been involved in theatre for over 25 years, and for the last ten years has been Monkeyman Productions' Playwright-in-Residence and Business Manager – but this is his first foray into podcasting! Where do D.J.'s ideas come from? D.J. is inspired by monkeys, robots, cats, the Creature from the Black Lagoon, Bigfoot, that theme song from The Greatest American Hero, Arthur Kopit, 80s-era Justice League comics, various dystopias from his childhood (including Bible School), Lego spacemen, Alfred Hitchcock Presents (mostly the host segments), potato chips, Young's Double Chocolate Stout, yellowed sci-fi paperbacks, friends, enemies, strangers in the night … and all things strange and wonderful in this world.
djsylvis.com
**
New Play Exchange page
Leeman Kessler (performer, Roger Bragado-Fischer, pronouns he/him)
Leeman Kessler is a Nigerian-born American actor who joined Monkeyman Productions in 2008 when he was cast as King Kong. His decade-long collaboration with Monkeyman has seen him acting, directing, and producing, and now he returns to be part of this exciting new podcast serial, Moonbase Theta Out. Listeners might also enjoy his long-running web-series Ask Lovecraft whose genesis began on the stage with Monkeyman and which was featured in the Toronto Fringe. He is patiently endured by his wife and two children.
www.asklovecraft.com ** www.leemankessler.com ** Twitter
Theme music is "Star" by Ramp. Cover art created by Peter Chiykowski.

Sound effects used in Moonbase Theta, Out are from http://www.freesfx.co.uk.