We proudly present our 5th anniversary production: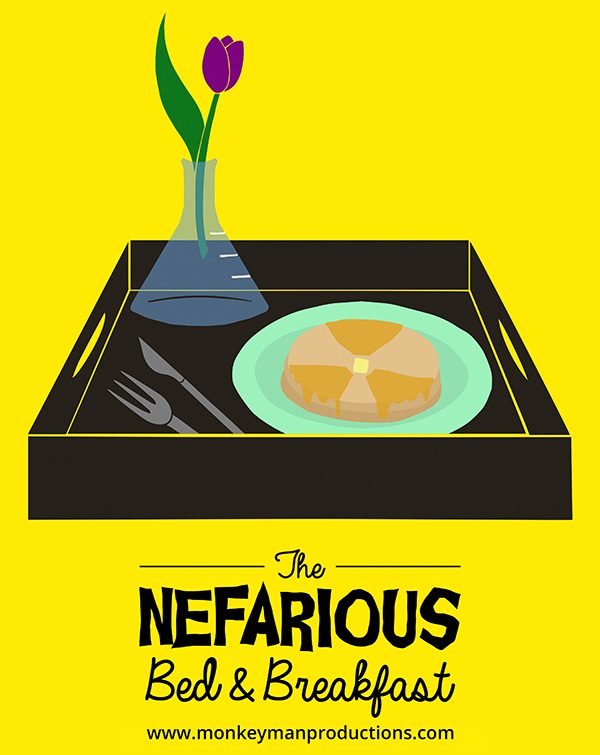 October 29th – November 9th, 2013
Follow The Nefarious B&B on Twitter!
---
You are invited to the grand opening of a diabolical accommodation experience! Nestled in the heart of downtown Toronto, we provide the perfect blend of country style and calamitous intent to our very special guests. You'll be greeted at the door by Dr. Notto Nefarious, reformed supervillain, and then whisked away to one of our themed suites, like the Laboratory or the Torture Room. You'll enjoy a restful getaway from the outside world, with our team of minions always on hand to fulfill your slightest request.
Of course, we are a bit new to this, so there may be a few bobbles! Please fill out a comment card at the completion of your stay; you'll find them on your bedside table beside the Geiger counter. (Remember – a little background radiation is perfectly normal!)
---
Dr. Nefarious was once a renowned Canadian supervillain. Now he has retired to open a small bed & breakfast with his invisible wife, his henchman Half-Ape, and high hopes that he can begin his life anew. But what happens when all his opening weekend guests are leading double lives – including a pair of superheroes, Mr. Mister and Ms. Try, who are certain there's something evil behind the sconces or at the bottom of the fruit cups? Even the young newlyweds checking in may not be what they seem …
Join us for a romp through two acts of heroes, villains, secret identities, and giant lasers – book your stay at The Nefarious Bed & Breakfast!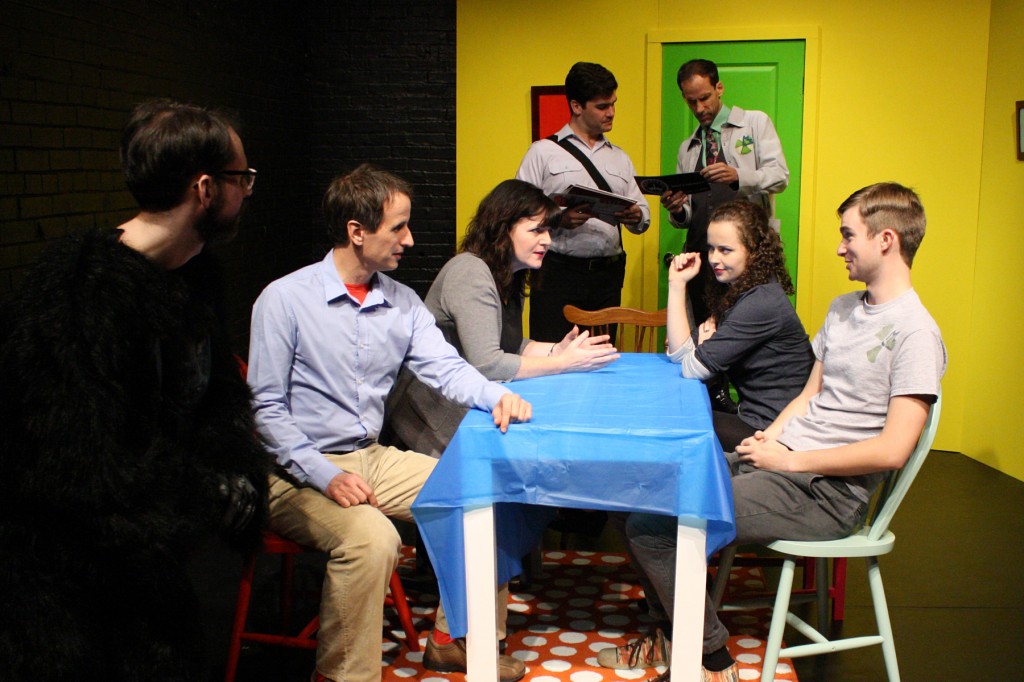 Cast and Crew
Dr. Notto Nefarious, supervillain, retired – Jeff Orchard
Jeff is a Toronto-based actor, writer, drama instructor, and comic book fan. He has portrayed a wide variety of characters in five Toronto Fringe Festival plays, directed several stage shows for a local blind theatre artists' company, as well as co-founding the live radio drama troupe Collateral Damage. Recent acting roles include: Cecil in Maurice & His Bridal Emporium, Mr. Spock in The Flying Avro Arrow, and Tyrell in Richard III.
Margot, his wife and business partner – Clare Blackwood
Clare is pleased as Princess Peach to be working with the wonderful Monkeyman folks again, having previously appeared in two years' worth of Simian Showcases. When not geeking it hardcore onstage with Monkeyman, however, her Toronto theatre credits have included: Kate, Phoebe and two different Portias with Spur of the Moment Shakespeare in this year's Toronto Fringe; Juliette/Little Bo Peep in Little Red Theatre's Goose and Seuss; Debbie in Lovelash, a New Musical; Rosemary Kerr in Love Jig; Woman #5 in Any One of Us, Words From Prison; and Sam in The Whores. In her spare time, she's an avid LARPer, tabletop-er, can probably beat you in Magic: The Gathering, and used to be an adventurer like you, but then she took an arrow to the knee.
Mr. Mister, superhero, somewhat retired – Mark Farmer
Mark Farmer is pleased to be making his debut for Monkeyman Productions, and as a superhero no less. Previous credits include The Seagull at SummerWorks, No Sex Please, We're British! for Theatre Etobicoke, All My Sons for Amicus Theatre, The Spirituality of Man for Derring-Do Productions and Eve's Prayer in Aumnae Theatre's New Ideas Festival. Mark studied acting at Actors' Equity Showcase, and at George Brown and Humber colleges. Mark's favourite superheroes growing up were Plastic Man and – of course – Superman.
Ms. Try, superhero, definitely retired – Nicole Fairbairn
Nicole has appeared in over fifty plays. She recently appeared in Drowning in Wasabi at the 2013 Toronto Fringe and in Radioactive Drag Queens from the Year 3000 at the 2011 Fringe. Other favorite theatrical experiences include playing five different characters in The Blue Room, doing a site specific play called Three Chicks in a Tub in her own apartment for the Vancouver Fringe Festival, playing Sandy in The Crackwalker, Anne in Key for Two, Bobbi in Last of the Red Hot Lovers and Alexa Vere de Vere in As Bees in Honey Drown. Her recent feature film, Tower, where she played a lead role, was an official selection of the 2012 Toronto International Film Festival and several other world festivals.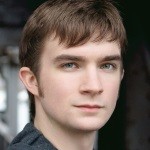 Judas, newlywed, oddly obsessed with Dr. Nefarious – Jeff Dingle
Jeff is geeked out to be making his Monkeyman debut. Recently he has journeyed to many alternate realities, including the puppet universe of Shakey-Shake and Friends (2013 Toronto Fringe / Best of FringeKids 2012), the human and puppet infused dimensions of The Velveteen Rabbit and Scooter Thomas Makes it to the Top of the World (Theatre New Brunswick), and the mostly human realms of Orpheus Descending, The Man of Mode, and Little Women (George Brown Theatre School). Jeff once had aspirations of becoming a member of The League of Extraordinary Gentlemen, but settled for the much more realistic and achievable goal of being a Theatre Professional in Canada. One day he will learn to dream again… Enjoy the show! And watch out for lasers!!!
Kathy, newlywed, oddly obsessed with Canada – Erin Eldershaw
A graduate of both Canterbury High School of the Arts, and more recently George Brown Theatre School, Erin Eldershaw is very excited to be working with the Nefarious cast and crew this fall. Some of her most notable credits are Helena in A Midsummer Night's Dream…A Puppet Epic! (Toronto Fringe Festival 2013), Wendla in Spring Awakening, Virginia in Saturday, Sunday, Monday, and Katrin in The Europeans (George Brown College), and also The Neon Bible Project (Edinburgh Fringe Festival 2010). A big thanks to everyone who has helped her along the way; and as every 'nerd' should… thank you mom and dad, for the endless support and love. You too, Auntie Lori. May the Nerd be with you.
Half-Ape, henchman-turned-bellboy, raconteur – Tim Nussey
Tim is very excited to be celebrating the fifth anniversary of Monkeyman Productions with The Nefarious Bed & Breakfast. As a founding member of the company, Tim has worked on many projects with his co-founders, company members and Monkeyfriends, and cannot wait to finally bring Nefarious to our audiences. Tim is a graduate of the Ryerson Theatre School, and has performed in television, film, live music, and of course, theatre, in his career thus far. Some notable credits include Andrew in Second Last Man on Earth, Joseph in Controlling Love, Bernie in Dead Man's Party, and Kadin in Godzilla on Sundays.
Joe, Canada Post employee, definitely nothing else – Luke LaRocque
Luke is thrilled to be making his onstage debut with Monkeyman after directing Super at the 2013 Simian Showcase. He's an actor, producer and sometimes writer, mostly with Glasswater Theatre, but also for someone like you. Just sayin'. Recently, he created and produced the sold-out run of Honest Aesop's Fables at the Toronto Fringe, and performed in Robin Hood: The Legendary Musical Comedy (Hart House Theatre). In his spare time, he likes reading longform.org and riding public transit just because he can (but with his bike alongside for when it breaks down).
Director: Martin Chodorek
When approached to direct this show, it is rumored that Martin slurredly proclaimed his undying love for both beds and breakfasts. He became even more animated when superheroes were mentioned. Fortunately, he has since been surrounded by lots of lovely people who are very good at their jobs. He is flattered to have his name listed among theirs and thanks you for joining Monkeyman Productions in celebrating five years of geek theatre.
Stage Manager: Esther Brown
Esther is fantastically frazzled to find herself faced with a fortuitous fate featuring The Nefarious Bed & Breakfast with Monkeyman Productions! Feebly fighting the forces of foolishness, she fancied herself the Stage Manager of this frenzied fable. This female is famous for her finesse in Stage Management, Lighting, and Sound and is furiously following the tutelage in the discipline of false fighting for the Stage and Screen at Rapier Wit with faith of forging herself into a future Fight Director. Many thanks to her friends and family who felt the fierce flurry of furor for this function and faithfully fostered her fatuousness!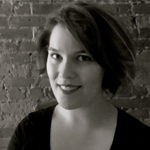 Asst. Stage Manager: Sarah McCready
Sarah is overjoyed to be working on The Nefarious Bed and Breakfast! She is a student at Ryerson University in Performance Production where she has been the Head of Wardrobe for Marathon 22′, Head Carpenter for Our Class and is now Set Designer for Martin Chuzzlewitt. She claims nerd status through an intense love of Harry Potter, though her status is under scrutiny after the realization that she has never seen Jurassic Park.
Set Designer: Linn Øyen Farley
Linn Øyen Farley is an occasional theatre admin & designer, IKEA furniture & bacon enthusiast, and builder of things on the internet. She has an irrational love for the Backspace at Theatre Passe Muraille, so working on this show is pretty darn exciting. Favourite credits: co-producer of The Simian Showcase 2011-2013 (Monkeyman Productions); designer, dramaturg & publicity for Uncharted Zones (Monkeyman Productions, 2011); set & costume design for Alkestis (UC Drama, 2010); lighting design for Mahmoud (Pandemic Theatre, 2011-2013), The Queens (Glasswater Theatre, 2011), Monkey Sci-Fi Horror Theatre II (Monkeyman Productions, 2010), and WOYZECK (the red light district, 2010).
Lighting & Costume Designer: Lisa Sciannella
Lisa is a visual artist that fell in love with the theatre at an early age. She graduated with honours from Humber's Theatre School. She has enjoyed working on a variety of different projects like the Simian Showcase (Wasting Time) and the New Ideas Festival (My Red Feather Boa). Fringe productions she has worked on include The Very Very Girl and Headshots and Healing Potions. Lisa is a company member of Monkeyman and as such is enjoying the freedom to create whatever craziness enters her head. When not running amuck back stage, she's running amuck elsewhere. Usually with paint brushes in her hair, a glue gun in each hand and a crazy look in her eyes. You can see some of the results at lisa-sciannella.deviantart.com.
Technical Director: Christopher Ross
Chris is a Toronto-based technical director, production/stage manager and enthusiast. He's had the pleasure of coordinating tech for – and drinking beer with – many wonderful companies, including the red light district, Pandemic Theatre, and (obviously) Monkeyman Productions.
---
---
Half-Ape's Poetry Corner!
Our Friendly Neighbourhood Half-Ape is not just a minion to be proud of – he's also a poetry lover! As a thank you for a few people who offered special support for the launch of our little bed & breakfast, he's recorded the readings below. Enjoy!
---

Thank you to everyone who donated to our IndieGoGo campaign! You helped us reach our goal!
Our Donors: A. Garside, Ace of Blades, Aidan Morishita-Miki, Alan Page, Amie Heaslip-Cosgrove, Amy Fedrigo, Andrew Campana, Andy Borman, Anne Taylor, Anne Wilson, Annie Mahoney, Annie Zanetti, Anonymous, Avery Swartz, Bianca Woods, Brad Harrison, Cato Pedersen, Christi Bass, Dana Larose, Darcy Stoop, Davian den Otter, David Smith, Debs Isaac, Elizabeth Prince, Eric Hopkins, Eric T, Errol Elumir, Eva Cherney, Fran Yarger, Frances Tanner, Glen Farley & Anne-Siri Øyen, Henrik Øyen Farley, Irfon-Kim Ahmad, Jackie McClelland, Jenna & Derek Vince, Jessy Blazejewski, Justin Buyukozer, Kari Maaren, Karine Valentini, Kimmie Croscup, L & K Nussey, Lauren Eve Lazar, Linn Øyen Farley, Lore Hera, Luke LaRocque, Lyf Stolte, Manda Whitney, Matthew Coburn, Matthew Kirshenblatt, Melanie Hrymak, Mercenary Pen, Michael Martin, Michael Murphy, Miss Ginny Tea, Monica Tedman, Ms. Robin Blackburn, Natalie Cooper, Neil Silcox, Nicholas Randall, Nils Božidar Plosnić, Ola Hulbak, Pandemic Theatre, Paul, Richard Taylor, Robert Turnbull, Ruby Vixen, Ryan Harron, Sarah Carless, Mr. and Mrs. Scott Clarkson, Signe-Margrethe Tvinnereim, Siobhan Madden, Siri Næss, Stacey Norton, Stephen Whitney, Stuart Johnson, Tara Litvack, Tom Rylett, Victoria Hightower, and Victoria Urquhart. We couldn't do this without you!
Many grateful monkey-hugs to all!