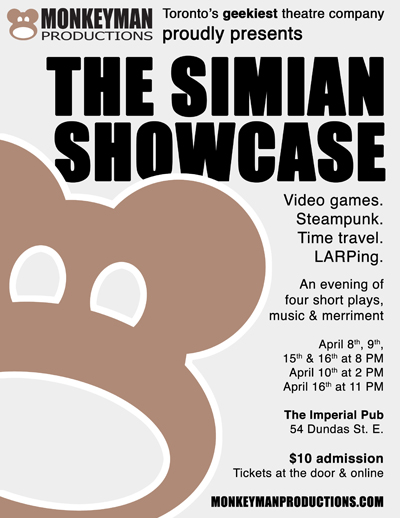 Evening shows at 8pm on April 8th, 9th, 15th, and 16th
Matinée at 2pm on April 10th – Late-night show at 11pm on April 16th
The "Back Of Ye Pub" at The Imperial Pub, 54 Dundas St. E., Toronto
$10 admission — tickets available at the door or via our tickets page
The show runs approximately two hours,
including one 15-minute intermission
Press release (PDF)
Production stills
•
Featuring:

by Camilla Maxwell
Directed by Neil Silcox
with Brandon Hackett, Michael Mackinnon and Clare Blackwood
Camilla Maxwell is an Australian-born playwright and actress. She has a bachelor's degree in Media/Creative writing from Macquarie University in Sydney, Australia, and an associate's degree in Theatre from the American Academy of Dramatic Arts, in New York City, New York. Ms. Maxwell has written various plays which have achieved great success Off-Off Broadway. She is the Assistant Editor and Marketing Coordinator of Boat Drinks Ink, LLC, and is a resident playwright and artist with Mind The Gap Theatre. You can read more about her at www.camillamaxwell.com.
Neil Silcox is thrilled to be working on his debut production with Monkeyman. Neil has appeared on stages all over Toronto, most notably as Lawrence in Dirty Rotten Scoundrels, Buckingham in Richard III, Bottom in A Midsummer Night's Dream, Edgar in King Lear, the Protean in A Funny Thing Happened On the Way to the Forum (Hart House Theatre), Malvolio in Twelfth Night and Oliver in As You Like It (Canopy Theatre). His directing credits include RENT and MWAHAHAHAHA!! (Toronto Youth Theatre), Urinetown (U.C. Follies), Romeo and Juliet (OKTC) and Chekhov by the Sea (Erindale Fringe). Neil's next project is a production of The 25th Annual Putnam County Spelling Bee with the Toronto Youth Theatre and he will be appearing as Antipholus of Ephesus in The Comedy of Errors with Humber River Shakesepare. Neil would like to thank Marty and Linn for their support as well as Tara Litvack, Lizz Armstrong and most especially his girlfriend Sophia for all their help.
Brandon Hackett (Kyle) is thrilled to be performing in, and as, Chun-Li in Monkeyman Productions', er… production of Chun Li. Brandon's recent theatre credits include the role of the Drum Major in Woyzeck (2010, the red light district); various roles in the 2010 Fringe Festival revue Everybody Panic! (2010, Chris and Bran Presents); and a performer and co-writer of biweekly sketch comedy with troupe Etched-in-Sketch (2008-2010, Comedy Bar). Brandon is currently co-writing the script for an installation to be featured in Nuit Blanche 2011.
Michael Mackinnon (Justin). Being a mega-nerd himself, Michael is thrilled to be working with Monkeyman for the first time, in the Simian Showcase. LOL. Previous theatrical roles include: Pozzo in Waiting for Godot, Ali Ababwa in The Adventures of Ali and Ali and the Axes of Evil, and Andres in Woyzeck with the Red Light District theatre company. ROFLCOPTER. When he's not on stage, Michael splits his time between writing, reading graphic novels, listening to music, and his many nerdly pursuits, including: Call of Duty (just one of his many favourite video game titles), Warhammer 40k, and Settler's of Catan. 1337. Michael would like to thank Monkeyman (especially Linn Farley) for giving him the opportunity to unite his two loves (theatre and nerdom). KTHXBYE!!!!11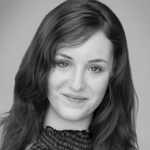 Clare Blackwood (Nurse) is a recent graduate of the joint actor-training program between UofT Mississauga and Sheridan College, and is an actor, singer, trumpet player and, most importantly, self-professed gigantic nerd. Since graduating, she has had the pleasure of being in The Whores, acclaimed at both the Toronto and Hamilton 2010 Fringe Festivals, and participating as a fortune teller in Alumnae Theatre's New Ideas Festival. Upcoming projects include Any One of Us: Words From Prison, as part of Toronto V-Day 2011, and Love Jig with the Armagh Theatrical Co-Op at Alumnae Theatre. She is proud to be getting her geek on with this company!
•


by Stephen Near
Directed by Phil Rickaby
with Leeman Kessler and Adrianna Prosser
Stephen Near is a Hamilton-based playwright, educator, and arts director. Stephen's plays include Quintessence (Reaching Symmetries Theatre), Resignation Papers (New Directions Theatre), Shadow Court (In The Moment Theatre), Continuum (New Ideas Festival), Out of Character (In The Moment Theatre) and Monstrous Invisible (Monkeyman Productions). Stephen is currently the Program Director for Arts Hamilton and a member of the Theatre Aquarius Playwrights Circle, the Playwright's Guild of Canada, the Council of Ontario Drama and Dance Educators (CODE) and the Camarilla Canada LARP club. His hobbies STILL include coffee, conspiracy theories and shamelessly transplanting real life into his fiction. Much love to Leanne and baby daughter Rebecca!
Phil Rickaby is an is an actor, geek, and writer. Phil has been seen on stage in such roles as Randy in Out of Character at the Toronto Fringe Festival, Puck in A Midsummer Night's Dream, Touchstone in As You Like It, and was one of the co-creators of the silent film play, The Belle of Winnipeg with Keystone Theatre. Previous Monkeyman credits include directing Dead Man's Party and the roles of Sir Alec Guthrie/Qing'Caan in Phoenix II: The Mongolar Maneuver and Doctor Nefarious in readings of The Nefarious Bed And Breakfast. Phil has also recently been seen in the short films The Dragon and the Unicorn, Behind Closed Doors, and the YouTube favourite, So You've Decided To Be Attacked By Zombies. Find him online at www.philrickaby.com.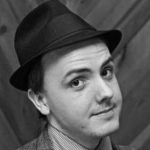 Leeman Kessler (Nick). Leeman Kessler. The very words conjure hope, honour, justice, and dire-badgers. Since coming to Toronto, this Nigerian-born American has fought valiantly to create the kind of theatre his children would actually pay to watch without any kind of guilting or parental subsidizing. Monkeyman Productions and the Simian Showcase are the culmination of these efforts and ambitions and now, you have the chance to see him as you've never seen him before unless you saw him play this same character two years ago. His melodious voice is available for phone menus and security pages. Variable rates.
Adrianna Prosser (Dana). This geek-chic red head loves Spidey, Shakespeare & sushi. In that order. She has been Titania, Ophelia, Lady Mac, and most recently a gaggle of women from 1837 in her self written one-woman show about the 1837 Upper Canada Rebellion. To know more about this fiery red head go to www.adrianna-prosser.com.
•


by Rebecca Nesvet
Directed by Janina Kowalski
with Scott Clarkson, Kat Letwin, Simon Pond and Valen Steer
Lighting by Lizz Armstrong, sound design by Michael-David Blostein,
costumes & props by Sarah Blostein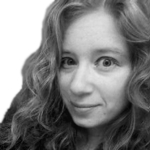 Rebecca Nesvet, class geek of New York University MFA Dramatic Writing 2008, graduated with the Chair's Award and an Alfred P. Sloan $10,000 Writing Award for her steampunk action script about what historian Allan Chapman calls "wings, springs, and gunpowder: the Jacobean space program." Plays include The Engineer Of Chelm (Merkavah Theatre, London), The Shape Shifter (Thorny Theater, Palm Springs), The Girl In The Iron Mask (Babes with Blades, Chicago, etc.), and two current New York commissions. Her PhD research is on Romantic exploration literature. She thanks Mary Shelley, Thea von Harbou, Caroline Thompson and Radiotheatre NYC for going first.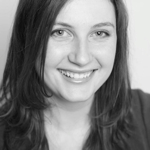 Janina Kowalski is a recent graduate of the University College Drama Program at the University of Toronto. It was here that she directed John Mighton's Body and Soul and was mentored by Leah Cherniak. She later assistant directed for Guillermo Verdecchia as well as the red light district. This summer she will be directing a play at the Fringe Festival. Janina is also a performer with an extensive movement background, performing at both the Fringe and the Paprika Festivals, as well as with Pandemic Theatre.
Scott Clarkson (Hunt). Grateful to the Monkeymen for one more kick at the can, Scott has worked with them in such geekery as Wolf in the Fold, Final Flight of the Phoenix, and Phoenix 2: the Mongolar Manoeuvre, as well as an early reading of The Nefarious Bed and Breakfast. Other credits include Pride and Prejudice, Private Lives, Twelfth Night, Much Ado About Nothing, Hamlet, Don Juan in Hell, The Tin Drum, The Fort at York, Side Man, Gross Indecency, The Making Of, and Lovesexmoney. Film and TV credits include an episode of Zero Hour and the Mexican feature Sin Retorno — neither of which has he seen. www.scottclarkson.net
Kat Letwin (Despina) is a Brantford-born, Toronto-based actor/comedian/writer/singer/publicist/band manager who, since childhood, has been skulking around the performing arts like a needy animal. Double or Nothing marks her first appearance with Monkeyman Productions. Kat can be seen on a monthly basis with her sketch troupe Rulers of the Universe, and as The Herald in Soup Can Theatre's production of Marat/Sade this July. Past Theatre/Film Credits of Note: Stevie, The Goat (TCDS, 2007); Janie, Guantanamo Hotels & Resorts (Pandemic Theatre, 2009); Acaste, The Misanthrope (Mirvish/the red light district, 2009); Squeaky Fromme, Assassins (Hart House/UC Follies, 2010), Hero, Slow Burn (GirlWatch Productions, 2011).
Simon Pond (Chace) is a Toronto based actor and comedian. He is best known for his work with the critically acclaimed sketch troupe Statutory Jape who regularly appears around Toronto and across North America. Currently they are working on their Toronto Fringe festival show Jape Presents: The Grapes of Khan. One time Now Magazine called him "delightfully chunky" but he's not bitter about it.
Valen Steer (Cellist). Introduced to the cello at an age of five, Valen Steer has continued to enjoy sharing his passion of music with others. In recent years he has played with both the Etobicoke Philharmonic Orchestra and York University's Symphonic Orchestra. Additionally, Valen has taught cello within various music programs, in group and private settings. He is currently a member of the I-Strings Quartet and occasional performer with Baarbad Music.
•


by Mark Harvey Levine
Directed by Tom McGee
with Robert LaRonde, Timothy Nussey and Brad Rowe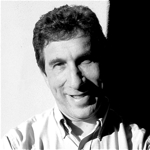 Mark Harvey Levine has had over 600 productions of his short plays all over the world from New York to Seoul to Sydney to Prague. Evenings of his work have played in Amsterdam, Sao Paulo (in Portuguese!), New York, Los Angeles, Boston, Indianapolis and Columbus, OH. Other Toronto productions include Up On The Roof and The Kiss at the InspiraTO Festival. He lives online at www.markharveylevine.com, and in real life in Pasadena, California with his lovely wife and son. This is his first appearance in a festival with "Simian" right there in the title.
Tom McGee's first experience with direction occurred back in his high school improv days, where he began to understand the dynamics of scenes, characters, and stories. Since then, Tom has continued to study both how we tell stories and how storytelling manifests on stage. Having been captivated by stories all his life, Tom looks for scripts or ideas that will capture the imagination of the audience. When not directing, Tom works as a communications consultant and dramaturge. Previous directing credits include The Compleat Works of Wllm Shakespeare (Abridged), Who's Your Messiah, Vigil, The Eumenides, The Odyssey, and most recently assistant directing LOVESEXMONEY for Theatre Brouhaha.
Robert LaRonde (Howard) is a playwright, actor, sound designer and theatre blogger. His works include the audio play The Mark Inside, Arm's Length (echoplay theatre/Summerworks), The Birth Day (New Ideas Festival) and w/e (echoplay theatre/Boulder International Fringe Festival). He has most recently performed in Pandemic Theatre's My Gaza 'Tis of Thee and The Trial, Flagellation and Crucifixion (The Graduate Centre for Study of Drama). He holds an MA from the Centre for the Study of Drama at the University of Toronto as well as a BA in Theatre Studies from York University. His theatre blog can be read at rlaronde.wordpress.com.
Timothy Nussey (Howard) is pumped to once again trod the stage with Monkeyman Productions, of which he is a proud member. Tim has most recently been on stage with the Monkey-folk in Dead Man's Party and Phoenix II last fall. Tim is tickled pink to continue his streak of appearing in every Monkeyman Production to date, his only regret is that he is not just a little bit taller. Tim recently acquired a Fallout 3 bobble-head and lunch box. Win. He is looking forward to The Simian Showcase, and all of the mystery and excitement it will entail!
Brad Rowe (Howard). A classically trained actor originally from Guelph, Ontario, Brad is thrilled to once again take to the boards to perform in a Monkeyman show. Past credits include Dale in Godzilla On Sundays and Joe in Dead Man's Party. His thanks go to Marty, Linn, and Tom for their efforts to put this whole thing together. He's also hoping that he doesn't come back from the future to insult himself for this bio. Seriously. It would mess him up.
•
Also featuring musical guests:
Deborah Linden and Errol Elumir

Debs and Errol are a Toronto-based music duo focusing on all things geeky. After meeting through the local chapter of National Novel Writing Month in 2007, they began to sing duets and write songs together and have performed at a smattering of gatherings. Both are highly active in the February Album Writing Month community, an online songwriting challenge where participants aim to write 14 songs in 28 days. When not together, Debs focuses on writing serious things and Errol works on becoming tactful in public gatherings.