TORONTO'S GEEKIEST THEATRE COMPANY
Since 2008, Monkeyman Productions has produced theatre of the futuristic, the freakish, and the fantastic. We examine the obsessions and enthusiasms of a society informed by comic books, monster movies, and video games – speaking the language of Internet addicts, collectors, and true believers. We draw from popular culture just as Shakespeare drew from the common culture of his day – creating our own laser-fueled, zombie-ridden mythologies with a definite eye for the absurd, but also a corresponding empathy for a subject matter which, in the end, encompasses all of us. We are all, in one way or another, geeks. We are all Monkeys.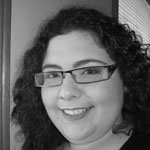 Lisa Sciannella
Lisa Sciannella hales from North York Toronto. And every night she enacts elaborate plans to take over the world. Until headway is made in her delusions of world dominance, Lisa has worked with several theatre companies, like Theatre Inspirato, The Cabbage Town Theatre and Monkeyman Productions. For some reason they sometimes let her run things back stage. And on rare occasions they even let her play with a glue gun. The resulting mayhem is indescribable.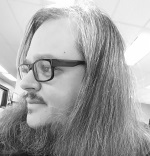 D.J. Sylvis (founding member)
D.J. has been involved in theatre for over 20 years as an actor, director, technician, playwright, and producer. You may know D.J. from such productions as That Great Green Galloping Lizard, Why Is My Cape So Tight?, and Dead Men Don't Wear Communicators. He's proud to be both a founding member and the playwright-in-residence for Monkeyman Productions, and prouder still to have the chance to work with such supreme – and supremely geeky – artists on our productions. Not since the Justice League has such a team been assembled, and he hopes to spend many more years as the Plastic Man of the group.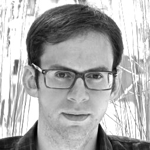 Timothy Nussey (founding member)
Tim was born in the city of Toronto and is a graduate of the Ryerson Theatre School. He has been involved in performance, including theatre, music and film for over a decade in the city, but it is with the forming of Monkeyman productions that Tim has truly found his love for the theatre and especially for acting. Tim has appeared in many Monkeyman shows, with highlights including Dead Man's Party, and Godzilla on Sundays. He has also taken on the mantle of producer for some shows, and enjoys it, even if the learning curve can be pretty steep.
Jordi O'Dael
Jordi is a trans nonbinary performer, director, dramaturg, and producer. A UWinnipeg/Randolph College alum, Jordi has based their career on portraying 12 year old children, ancient evil constructs, and creating queer punk feminist impressionist pieces. In 2017, Jordi served as co-writer, dramaturg, producer, and performer for the award winning, breakout hit 'NASTY' at the Toronto Fringe. They are a co-founder of Maelstrom Art Collective; a collective dedicated to creating diverse protest pieces, and socially responsible horror company Aberrant Theatre. They enjoy challenging oppressive paradigms, corgis, and all forms of potatoes.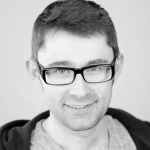 Andrew Gaunce
Andrew is not one of your so-called "human" creatures (a word that truly has no meaning, as it can be applied to even the current ruler of Ontario), but is a Beast from the 39th Dimension presenting here in a form that will not melt your tiny minds. When he is not facing down his nemesis, Ned Nicely of the Neptunian Guard, on battlegrounds across our universe, he hosts a cooking show and writes blog posts about tiny dogs. He is also standing on the street corner across from your house, watching while you sleep.
Past Company Members
Martin Chodorek (founding member), Brad Rowe (founding member), Linn Øyen Farley, Leeman Kessler, Manda Whitney, Christopher Ross, Hannah Barnett-Kemper, Scott Clarkson, Jessica Nelson, Phil Rickaby
Past Collaborators
Lindsey Alston
Lizz Armstrong
Michael Atlin
Sarah Beaudin
Bespoke Theatre Company
Clare Blackwood
Matthew Ivan Bennett
Michael-David Blostein
Sarah Blostein
Susan Bond
Sarah Bowden
Esther Brown
Andrew Campana
Graeme Casson
Mitchell Court
Adam Cresswell
Merritt Crews
Debs & Errol
Joseph Deogracias
Jeff Dingle
Erin Eldershaw
Adam Esquenazi Douglas
Heather Emme
Nicole Fairbairn
Mark Farmer
Mark Gagné
Andrew Gaunce
Martha Girvin
Kelsey Goldberg
Tasha Gordon-Solmon
Jennie Grimard
Brandon Hackett
Jordan Hall
Anne Harper
Jeffrey Henderson
Melanie Hrymak
Amanda Ives
Cameron Johnston
Sean Kaufmann
Jennifer Kenneally
Sarah Knight
Janina Kowalski
Luke LaRocque
Robert LaRonde
Rory Leahy
Alexandra LeBlanc
Kat Letwin
Rufio Parker Luey
Mark Harvey Levine
Tanya Lynne
Kari Maaren
Colin MacDonald
Michael Mackinnon
Daisy MacLean
Chelsea P. Manders
Camilla Maxwell
Leslie McBay
Sarah McCready
Tom McGee
Matt McGrath
Megan Miles
Laura Moniz
Emma Moore
Jack Morton
Stephen Near
Rebecca Nesvet
Jordi O'Dael
Jeff Orchard
Davian Den Otter
Stefanie Pantalone
Nick Philpott
Kay Poiro
Simon Pond
Rae Powell
Kelly Preeper
Adrianna Prosser
Laura Roald
Kevin Robinson
Charlene Rockwell
Miriam Rosalky
Jessica Rose
Tom Rylett
Kyle Shields
Neil Silcox
Valen Steer
David Straus
Sarah Swift
Paul Tamm
Michael Trottier
Victoria Urquhart
Shawn Van Osch
Annemieke Wade
Holly West
Chloë Whitehorn
M.J. Williams
Diana Woody
Melissa Zaccardelli