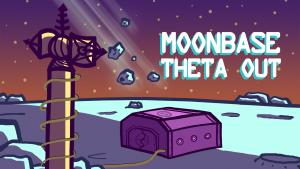 That's right, the wait is almost over. Our first podcast project, Moonbase Theta, Out, will go live next Tuesday – November 13, 2018! Sign up on your favourite podcast program (you can find all the links on our page) or check here as of that date – you'll find not one, not two, but the first three episodes waiting for you! All that dystopian sci-fi goodness courtesy of the dulcet tones of Mr. Leeman Kessler and the word thingys of D.J. Sylvis – how can you wait another week?
Mark it in your calendars now! And don't forget, if you join our Patreon at $5 a month or above, the launch date means you'll have access to the entire 20-episode season that day!
We're almost to the Moon, folks!