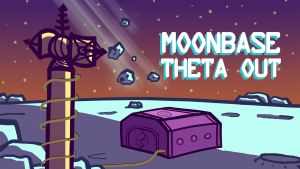 The final bonus episode for Season 1 finds Roger a week beyond the end of the scheduled shutdown sequence, wandering the Base on his own, coming to terms with what he's discovered. However, an unexpected voice may change everything …
Roger Bragado-Fischer: Leeman Kessler (he/him)
Wilder: Tina Daniels (she/her)
Scientist: David S. Dear (he/him)
Written and produced by D.J. Sylvis (he/they)
Thanks again for listening, and sharing, and talking up the show! And special thanks to the people helping make our second season possible – backing us on Patreon or making a one-time donation via our Ko-Fi page. We're deep into writing new episodes, about to cast all the characters being added for S2, and we couldn't do it without your backing!
Theme music is "Star" by the band Ramp – http://www.ramp-music.net/. Cover art created by Peter Chiykowski – http://lookitspeter.com/.
Also stay tuned after the episode to hear promos for two other thrilling sci-fi shows: Relativity and Ninth World Journal!
You can find more information at https://monkeymanproductions.com/moonbase-theta-out/. You can also find us at Monkeyman Productions on Facebook, and as @MonkeymanProd on Twitter.
[powerpress]
Sound effects from freesound.org, including the following (any effects not listed below required no attribution):
46136__bristolstories__window-thump
212967__patricklieberkind__drilling-bursts
264095__kwahmah-02__minoltav300picture2