Evening shows at 8pm on April 13th, 14th, 20th, and 21st
Matinée at 2pm on April 15th – Late-night show at 11pm on April 21st
The "Back Of Ye Pub" at The Imperial Pub, 54 Dundas St. E., Toronto
$10 admission – tickets available at the door or via our tickets page
•
Featuring:
by Sarah Bowden
Directed by Martin Chodorek
with Adam Cresswell and Melanie Hrymak
Sometimes you have to address the elephant in the room. Once in a blue moon, that elephant is wearing a cape and tights.
•
Faster than an encroaching deadline, more powerful than the lure of the American Dream, and able to plow through tall stacks of comics in a single sitting: Sarah Bowden emerged from Smallville, Illinois a mild-mannered Midwestern playwright by day and a tomboy with a vengeance by night. Sarah sidekicked it for two years on behalf of Philadelphia's To The Wall Productions, where she served as an artistic associate. She co-wrote Grimm & Tonic: An Evening of Adapted Fairy Tales for To The Wall, and had her short play Through the Valley performed as part of the Philadelphia Dramatists Center's 4×4 Festival. Her full-length Two Sides of a River was given a staged reading at the Painted Bride Art Center in Philadelphia, and this March, her full-length Lively Stones will receive a reading at Pittsburgh Irish Classic Theatre. She has completed internships with Chicago Dramatists, the Arden Theatre, the Wilma Theatre, the Northlight Theatre, the O'Neill Center and the Adirondack Theatre Festival. Sarah was the recipient of the 2003 Margaret W. Baker Prize for Fiction and the 2005 White-Howells English Prize for Drama, both of which currently hang in her Fortress of Solitude.
Adam Cresswell (Joe) is a Toronto-based actor currently seeking representation who just this month graduated from the joint theatre program of The University of Toronto and Sheridan College. In the past year alone he has been devoured by a bear performing as Antigonus in z, stabbed as Laertes while in a duel with Hamlet and thoroughly lambasted by Othello and Juliet when he became Iago and Romeo in Theatre Erindale's hit production of Goodnight Desdemona (Good Morning Juliet). What this means is that he is very excited to take his virgin Monkeyman voyage and actually play someone who does the butt-kicking as a change of pace. Adam extends big thanks to Martin and Mel for this opportunity, and to everyone who plans on coming out!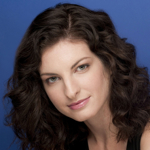 Born and raised in Hamilton, Ontario, Melanie Hrymak (Linda) is slowly making her way around Lake Ontario in a clockwise fashion. She attended the joint Acting program at Sheridan College and the University of Toronto, and has spent the last few years here in Toronto. Previous roles include Puck in A Midsummer Night's Dream (Urban Bard), Pierre Elliot Trudeau in Trudeautopia (Toronto Fringe), Sherry in The Best Men (Skinny Jo Productions), and Sonya in The Russian Play (Erindale Fringe). She is also a certified Basic Actor-Combatant with Fight Directors Canada, which became necessary after all the Hamilton jokes she has had to endure here in Toronto. Please visit melaniehrymak.workbooklive.com if there is anything else you would like to know!
---
by Nick Philpott
Directed by D.J. Sylvis
with Matt McGrath and Timothy Nussey
Sometimes being roommates, best friends and collaborators can be a bit much. Especially for Ross, overdue on a big project while Gary keeps pestering him about his new graphic novel idea – one that's a little bit Jonah Hex, a little bit Indiana Jones, and a whole lot of distraction.
•
Nick Philpott was knitted into existence at age 12 by a loving family who brought him up to be a relatively normal adult, for someone made of fabric. He attended Ohio University and received a Bachelor of Fine Arts in Playwriting, and has since then gone Kerouac and moved to Hollywood to try and make it big. His plays have been produced at Ohio University and the Kennedy Center American College Theater Festival. This is his first international production, which is pretty rad.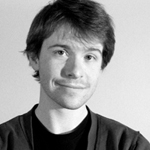 Matt McGrath (Ross) is a young and aspiring Toronto actor and occasional writer. He has been acting on stage for the better part of a decade. Recent credits include: Jonathan in Arsenic and Old Lace (VCDS), Wilbur Turnblad in Hairspray (St. Michael's college), and Lane in The Importance of Being Ernest (New Faces). Matt is very excited to be in his first Monkeyman show, seeing it as the ultimate synthesis of his two passions: acting and geeky pop-culture. Matt's geeky claim to fame is, he most likely spends more on comic books in any given month, than he does on food and rent combined.
Timothy Nussey (Gary) is a graduate of the Ryerson Theatre School, and a founding member of Monkeyman Productions. He is excited to be back for another Simian Showcase at The Imperial Pub, and jazzed to be working with Matt and Deej on Gunpowder Arizona. Tim has appeared in many of Monkeyman Productions' shows, and some of his favorites include Dead Man's Party, Phoenix II: The Mongolar Maneuver, and Godzilla On Sundays. He would like to thank Matt and Deej, Ricky and Fred Neuman and the Imperial Pub staff, as well as all of the members of Monkeyman Productions, and the monkey-friends.


---

by Matthew Ivan Bennett
Directed by Leeman Kessler
Stage managed by Lisa Sciannella
with Michael Atlin and Jeffrey Henderson
A bromantic comedy about what happens when we grow up, and the things we thought we'd never grow out of begin to lose their edge.
•
Matthew Ivan Bennett is the Resident Playwright of Plan-B Theatre, where he's premiered several plays including "Mesa Verde," which was nominated for a Steinberg award by the ATCA, and "Block 8," which was supported by the NEA. His radio plays "Alice," "Frankenstein," and "Lavender/Exile," have been broadcast nationally. His works have appeared at Chicago's Circle Theatre, at Hunger Artists in California, Rising Sun in New York, and in 2013, his comedy "A Night with the Family" will run at Omaha Community Playhouse and Pygmalion Theatre Company in Salt Lake. Matt earned a Bachelors' of Theatre Arts at Southern Utah University.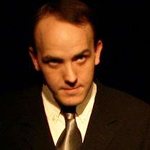 Leeman Kessler was born in Nigeria as an early Christmas present to the world. In the three decades since, his montage includes scenes of studying theatre in London, eating Mayonnaise in Amsterdam, walking on rickety planks above Crocodiles in Malaysia, and unrelatedly throwing up on at least three continents. Monkeyman Productions has been suffering his presence since 2008. In that time, he has only been seen onstage so this is a first for him to play the puppet master. Prior directing credits include David Ives' Sure Thing and a self-written 5 minute play which included 40 puns. He is survived by his wife, the Reverend Kessler.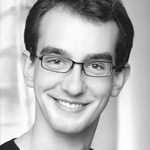 Michael Atlin was born in Iowa, but spent most of his childhood in Nova Scotia and the Philippines. He was bitten by the theatre bug in Grade 9, when he performed with Neptune Theatre School's Youth Performance Company. Since then, he has appeared in a number of productions in Toronto, most recently with Urban Jungle in I Spy at the Toronto Fringe Festival, Single Thread in Much Ado About Nothing, and also wrote the one act chess comedy Zugzwang, which was performed in the 2011 Summerworks Festival. A recent graduate of Humber College's Theatre Performance Program, he is currently attending York University.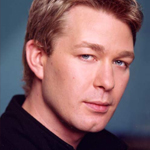 Jeffrey Henderson is very excited to be making his debut with Monkeyman Productions at this instalment of the Simian Showcase. One of Ryerson Theatre School's Dinosaurs (according to Iris – former chair of RTS), Jeff is also extremely pleased to once again be sharing the stage with fellow cretaceous classmates: Artistic Director Marty, and Timothy (Juice) Nussey, as well as getting to meet and play with a whole new set of people who don't know about his epic green M&M tirades. Although he has been mainly hiding amidst frames of celluloid, he can't wait to raise a glass with the live audience at the Imperial Pub and celebrate his return to the stage in what is by far his best work in a dramatic offering about sharks. He would like to thank his beautiful wife Ashleigh whose passion and talent "Inspire me to continue pursuing this crazy dream!"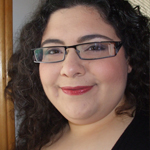 Lisa Sciannella (Stage Manager) hails from North York Toronto. And every night she enacts elaborate plans to take over the world. Until headway is made in her delusions of world dominance, Lisa has worked with several theatre companies, like Theatre Inspirato, The Cabbage Town Theatre and Monkeyman Productions. For some reason they sometimes let her run things back stage. And on rare occasions they even let her play with a glue gun. The resulting mayhem is indescribable.
---

by D.J. Sylvis
Directed by Martin Chodorek
with Clare Blackwood and Victoria Urquhart
Comicon can be the most wonderful time of the year. This year, Malinda and Zoe have come face to face with a collector's issue.
•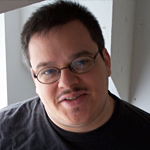 Where do D.J. Sylvis's ideas come from? D.J. is inspired by monkeys, robots, cats, the Creature from the Black Lagoon, Bigfoot, that theme song from The Greatest American Hero, Arthur Kopit, 80s-era Justice League comics, various dystopias from his childhood(including Bible School), Lego spacemen, Alfred Hitchcock Presents(just the hosting segments), potato chips, Young's Double Chocolate Stout, yellowed sci-fi paperbacks, friends, enemies, strangers in the night… and all things strange and wonderful in this world. And you. Yes, you right there. Don't even think about asking for royalties.
After being a little more behind-the-scenes during rehearsals for last year's Simian Showcase, Martin Chodorek is delighted to be working direct-ly with actors for this year's smorgasbord of sensational scripts and sounds. Few things bring him greater joy than a stage overflowing with talent; an aspiration made more attainable by choosing to work on a tiny stage. Nyuk. Having new co-workers and directing multiple plays brings back fond memories of Monkeyman's first production: Theatre of the Obsessed. He relishes this opportunity to, once more, have a front-row seat for these new explorations in the very familiar territory that is geek theatre.
Clare Blackwood (Malinda) is fresh off her epic two-word debut at last year's Simian Showcase, and is pleased as punch to be working with the wonderful, geeky people at Monkeyman again. She is a recent and proud graduate of the joint actor-training program at UofT Mississauga and Sheridan College, and since moving to Toronto has been a heroin-addicted prostitute with the Fringe, a prison inmate for V-Day 2011, a duck with Solar Stage Children's Theatre, a fortune teller with the New Ideas Festival, and an Irish dancer at Alumnae Theatre. In her spare time, she's an avid LARPer, tabletop-er, can probably beat you in Magic: The Gathering, and used to be an adventurer like you, but then she took an arrow to the knee.

Victoria Urquhart (Zoe)'s parents knew she was a geek at the age of 3 when she started playing Super Mario Bros. Since her gamer origins, she has switched over to being more of a literary nerd, and has fallen in love with heightened text – particularly that of the bard. Raised in the boonies, and trained through the University of Windsor, she is very excited to be joining such a like-minded, geeky team! Past credits include: Gentlewoman, in Hart House Theatre's Macbeth, Johanna, in Steam Powered Theatre's Bloom, and Ensemble in Shakespeare's Briefs.
---
Showcase Techies
Christopher Ross (Showcase TD) is a Toronto-based technical director, production/stage manager and enthusiast. He's had the pleasure of coordinating tech for – and drinking beer with – many wonderful companies, including the red light district, Pandemic Theatre, and (obviously) Monkeyman Productions.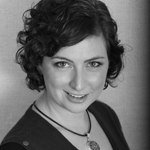 In a former life, Miriam Rosalky (Showcase SM) was a high school Drama & Dance teacher in Australia, but transplanted herself to Toronto in 2011 to pursue Stage Management full time. Directing credits include The Insect Play and The History of the Devil (Dickson College). Stage Management credits: Step Into the Limelight (2009, 2010 – ACT Dept. Education), Spring Awakening (Toronto Youth Theatre), Legally Blonde: The Musical (Lower Ossington Theatre) and Avenue Q (Assistant Stage Manager, LOT). She is excited to be unleashing her (not-so-)inner geek on the Simian Showcase and would like to thank Monkeyman Productions for bringing her aboard.
•
Returning This Year:
Musical Geek Comedy Duo,
Debs and Errol
a.k.a. Deborah Linden and Errol Elumir