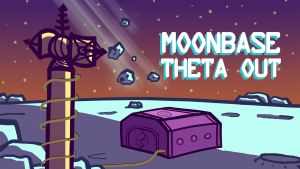 Welcome to our first bonus episode!
Set one week before Season 1, this episode is a personal log from Roger as he adjusts to the news of the forthcoming shutdown, considers his companions for the next twenty weeks, and wonders how Alex will take the news.
Thank you so much for listening, and for your support through Season 1! This is the first of two bonus episodes, a bit of an inside view into Roger's more personal thoughts, and more the direction that we'll be taking in Season 2. The other bonus episode will show up in your feed two weeks from now, titled "Minus One," occurring after the events of Season 1! Keep an eye out for that! And then it's full-blown creative time pushing toward S2, hopefully to arrive by midsummer!

Please consider helping us to make next season possible by backing us on Patreon (where we've just beefed up our perks!) or by making a small one-time donation on our Ko-Fi page. Your support makes all the difference!
Theme music is "Star" by the band Ramp – http://www.ramp-music.net/. Cover art created by Peter Chiykowski – http://lookitspeter.com/.
You can find more information at https://monkeymanproductions.com/moonbase-theta-out/. You can also find us at Monkeyman Productions on Facebook, and as @MonkeymanProd on Twitter.
[powerpress]