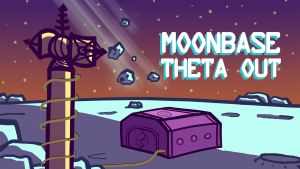 New to the show, looking to binge, ready to revisit Moonbase Theta? Here's the entire Season One – including bonus episodes – in chronological order! (So that's Bonus Ep. 1 – Regular Season – Bonus Ep. 2!)
Thanks again for listening, and sharing, and talking up the show! And special thanks to the people helping make our second season possible – backing us on Patreon or making a one-time donation via our Ko-Fi page. We're deep into writing and recording for the new season, but only halfway to our funding goal – we need your help!
Roger Bragado-Fischer: Leeman Kessler (he/him)
Moddy Sarah: HE Casson (they/them)
Wilder: Tina Daniels (she/her)
Scientist: David S. Dear (he/him)
Written and produced by D.J. Sylvis (he/they)
Theme music is "Star" by the band Ramp – http://www.ramp-music.net/. Cover art created by Peter Chiykowski – http://lookitspeter.com/.
You can find full transcripts for the season on the main MTO page.
You can find more information at https://monkeymanproductions.com/moonbase-theta-out/. You can also find us at Monkeyman Productions on Facebook, and as @MonkeymanProd on Twitter.
Podcast: Play in new window | Download
Subscribe: Apple Podcasts | RSS | More