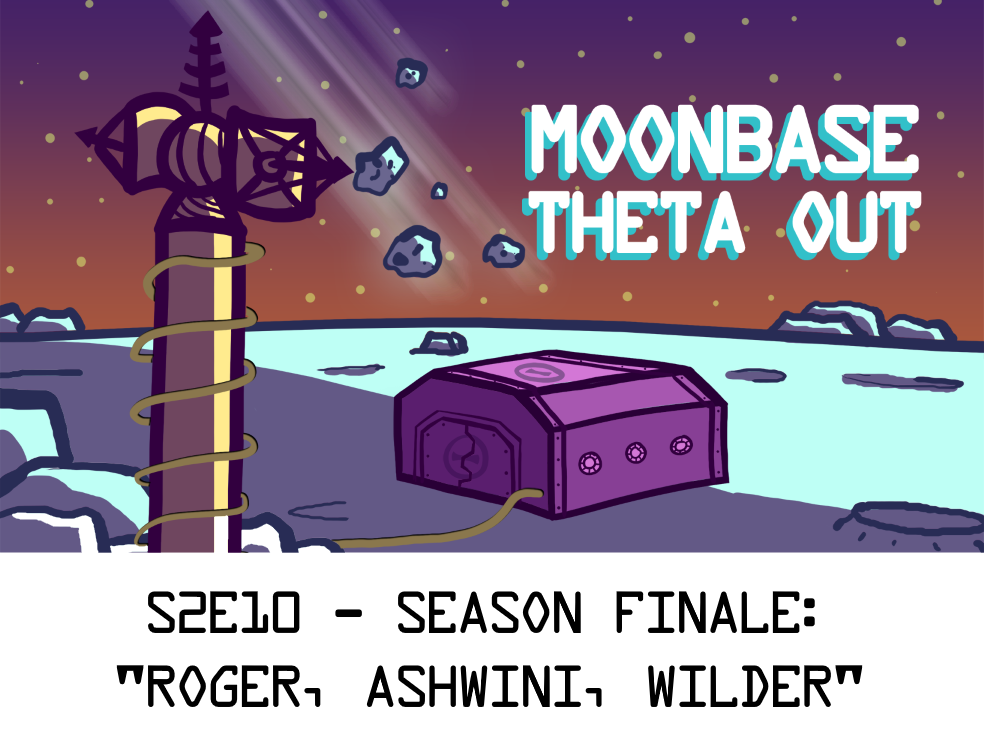 SEASON TWO FINALE
Roger is still on his way back from Moonbase Delta, stopping to share more thoughts on what he found. Ashwini and Tumnus continue their conversation, debating the central point of zir plan and what will happen when ze goes into stasis. Wilder leaves a tense, pained message before she is forced into stasis as well. There are a few surprises.
Recommended S1 Episodes for context: S1E19 – "Two" (The S1 Finale, "One," happens after the events of the S2 finale.)

SEASON TWO MAIN CAST:
Roger Bragado-Fischer (he/him) – performed by Leeman Kessler (he/him)
Alexandre Bragado-Fischer (he/they) – performed by Gabriel Tankeko (he/they)
Michell L'Anglois (he/him) – performed by Cass McPhee (he/they)
Nessa Cheong (she/they) – performed by Elissa Park (she/her)
Ashwini Ray (ze/zir) – performed by Tau Zaman (they/them/their)
Wilder (she/they) – performed by Tina Daniels (she/her)
Tumnus (they) – performed by Jen Ponton (she/her)
Written / Produced / Edited by D.J. Sylvis (he/they)

Moonbase Theta, Out: Before the Moon launches December 26th on our Patreon! Support us at the $5 level or above and get monthly episodes of this flashback miniseries featuring all of your MTO favourites before they left Earth! Details on our website and on our Patreon page!
Theme music is "Star" by the band Ramp – http://www.ramp-music.net/; today's episode featured music by Lavender as well, who records under 'A Rose is a Rose' and can be found on Bandcamp under that name. Cover art created by Peter Chiykowski – http://lookitspeter.com/.
You can find more information at https://monkeymanproductions.com/moonbase-theta-out/. You can also find us at Monkeyman Productions on Facebook, and as @MonkeymanProd on Twitter.
Thank you so much for all your support this season, all the ways you've been a part of our community and our work and our lives. We couldn't do this without you, and we're looking forward to many more stories to come! We'll be back with the Patreon miniseries launching on the 26th, then with our first post-S2 bonus episode, "Nessa," on January 19th! Happy holidays to all, happy new decade only days away, and keep watching the Moon!
[powerpress]