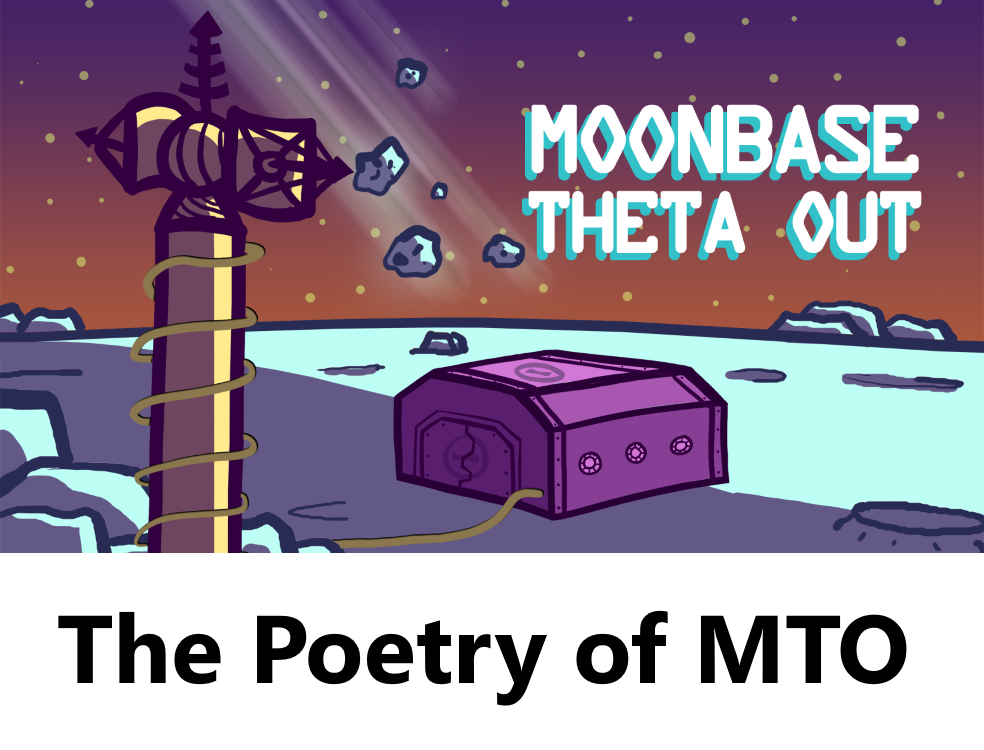 Hello listeners, and greetings from the Moon! Well, greetings from somewhere that feels as far away as the Moon right now, because I am locked away in seclusion like many of you are, thanks to the strangeness of the world at the moment. This is D.J. Sylvis, I'm the creator of Moonbase Theta, Out, and I thought that I would take advantage of some of the extra time to myself that the current situation is providing and give you a little extra special bonus; something that I've wanted to do for a while, which is to give you something of my own reading of the poems that we've used so far on the show.
The poetry, which particularly is focused between Roger and Alex, was such a huge part of their connection for me. Coming up with the idea of the book that Alex had sent up, the idea that these words would link them when they had to be far apart, and just the elevated language of the poetry itself. I loved being able to drop that in, to add that to the mix that is MTO. It's become a huge part of it in my heart, and I know many of the listeners enjoyed it as well, and I thought that I'd give you a little bit of a bonus and do my own reading of the poems we've used.
I will not be reading, "Rhyme of the Ancient Mariner," however; first of all, it's very long and … very long! And second of all, I don't think that even the clips that we've used, I could do anywhere near the justice that Leeman does in the Series One finale. I'll be reading you every other poem that we've used from Season One and Season Two.
The first piece is, "The Crescent Moon," by Amy Lowell, and this is the poem that apparently was Alex's favourite as a child:
The Crescent Moon – Amy Lowell
Slipping softly through the sky
Little horned, happy moon,
Can you hear me up so high?
Will you come down soon?
On my nursery window-sill
Will you stay your steady flight?
And then float away with me
Through the summer night?
Brushing over tops of trees,
Playing hide and seek with stars,
Peeping up through shiny clouds
At Jupiter or Mars.
I shall fill my lap with roses
Gathered in the milky way,
All to carry home to mother.
Oh! what will she say!
Little rocking, sailing moon,
Do you hear me shout — Ahoy!
Just a little nearer, moon,
To please a little boy.
All right, this is, "A Sonnet for the Earth," by Anna Hempstead Branch. This is the poem that Roger sent to Alex on his birthday:
A Sonnet For The Earth – Anna Hempstead Branch
When I am weary for delight and spent,
Even as a bird that tries too long its wings
Will nest awhile amid the grass and sings,
So I drop downward from the wonderment
Of timelessness and space, in which were blent
The wind, the sunshine and the wanderings
Of all the planets — to the little things
That are my grass and flowers and am content.
Or if in flight my wings should beat so far
From the kind grass that is so cool and deep
That it must poise among the winds on high —
Yet will I sing to thee from star to star,
Piercing thy sunshine, and will always keep
A song for thee amid the farthest sky.
The next poem we come to is a bit of a sadder one; it's an untitled poem by Ranier Maria Rilke, and this is the poem that Roger read for Nessa's eulogy:
Untitled – Ranier Maria Rilke
Do you still remember: falling stars,
how they leapt slantwise through the sky
like horses over suddenly held-out hurdles
of our wishes—did we have so many?—
for stars, innumerable, leapt everywhere;
almost every gaze upward became
wedded to the swift hazard of their play,
and our heart felt like a single thing
beneath that vast disintegration of their brilliance—
and was whole, as if it would survive them!
Now we're into Season Two, which actually only had a few poems. The first one we actually only used snippets from, Alex and Roger send back and forth early in the season. This is a poem called, "Alone," by W.H. Auden:
Alone – W.H. Auden
Each lover has a theory of his own
About the difference between the ache
Of being with his love, and being alone:
Why what, when dreaming, is dear flesh and bone
That really stirs the senses, when awake,
Appears a simulacrum of his own.
Narcissus disbelieves in the unknown;
He cannot join his image in the lake
So long as he assumes he is alone.
The child, the waterfall, the fire, the stone,
Are always up to mischief, though, and take
The universe for granted as their own.
The elderly, like Proust, are always prone
To think of love as a subjective fake;
The more they love, the more they feel alone.
Whatever view we hold, it must be shown
Why every lover has a wish to make
Some other kind of otherness his own:
Perhaps, in fact, we never are alone.
For something just a little bit happier I suppose – the poem that Roger and Alex had read at their wedding, which is the "Sonnet on Fidelity," by Brazilian poet Vinicius de Moraes, and this is translated by Ashley Brown:
Sonnet on Fidelity – Vinicius de Moraes
Translated by Ashley Brown
Above all, to my love I'll be attentive
First, and always with such ardour, so much
That even when confronted by this great
Enchantment my thoughts ascend to more delight.
I want to live it through in each vain moment
And in its honor I must spread my song
And laugh with my delight and shed my tears
When she is sad or when she is contented.
And thus, when afterward comes looking for me
Who knows what death, anxiety of the living,
Who knows what loneliness, end of the loving,
I could say to myself of the love I had:
Let it not be immortal, since it is a flame
But let it be infinite – while it lasts.
And finally, I'm reading you a poem that is one of my own. In the Season Two finale, Roger for the first time wrote a poem to Alex instead of simply reciting one to him; and this is a poem that I wrote quite a bit ago and updated for the show. And it's called "Patterns," by D.J. Sylvis:
Patterns – D.J. Sylvis
I never looked for patterns in the stars –
Stars are miraculous enough, bringing
Almost unbearable perspective
To the night sky, each a haven of potential
For dust to coalesce into new worlds
And new life, scattered flaring embers
From the fire that started the universe.
Expecting they'd also have some special,
Personal meaning seemed like asking
Far too much.
But, since the day I met you,
I've come to understand that stars,
Planets, all of cosmic evolution
From the first quarks and gluons
To the complex and beautiful forms
We now inhabit – they all exist
Within patterns, not created from Above
But found within, connections given movement
And necessity by our need for them,
By one of us reaching out to another,
Seeking some individual meaning,
Beneath and among an astonishment of stars.
And I think that that's a good place to leave it, so thank you for taking this little journey with me. I hope you enjoyed it, and I hope you're looking forward to much more poetry when we get around to Season Three! Thank you all, take care, and I'll talk to you again soon.