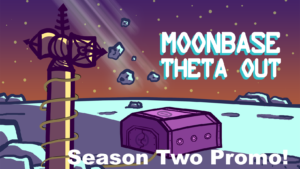 Welcome to the promo episode for Moonbase Theta, Out Season 2! Our new season will launch on August 18th, and it's going to be a lot more personal. Including, of course, a lot more persons! You'll be hearing Roger, Alex, Wilder, Nessa, Michell, Ashwini … and revealed here, the surprise sixth character on-Base! Share, enjoy, and add August 18th to your calendar!
Special thanks to everyone who is making this season possible – by listening, by talking us up online, and by backing us on Patreon or sending a donation via our Ko-Fi page. We always need more help in these areas (our exceptional voice actors deserve to be paid!), and we're always grateful for the support.
Roger Bragado-Fischer (he/him) – performed by Leeman Kessler (he/him)
Alexandre Bragado-Fischer (he/they) – performed by Gabriel Tankeko (he/they)
Michell L'Anglois (he/him) – performed by Cass McPhee (he/they)
Nessa Cheong (she/they) – performed by Elissa Park (she/her)
Ashwini Ray (ze/zir) – performed by Tau Zaman (they/them/their)
Wilder (she/they) – performed by Tina Daniels (she/her)
Tumnus (they) – performed by Jen Ponton (she/her)
Written / Produced / Edited by D.J. Sylvis (he/they)

Theme music is "Star" by the band Ramp – http://www.ramp-music.net/. Cover art created by Peter Chiykowski – http://lookitspeter.com/.
You can find more information at https://monkeymanproductions.com/moonbase-theta-out/. You can also find us at Monkeyman Productions on Facebook, and as @MonkeymanProd on Twitter.
Podcast: Play in new window | Download
Subscribe: Apple Podcasts | Android | RSS | More