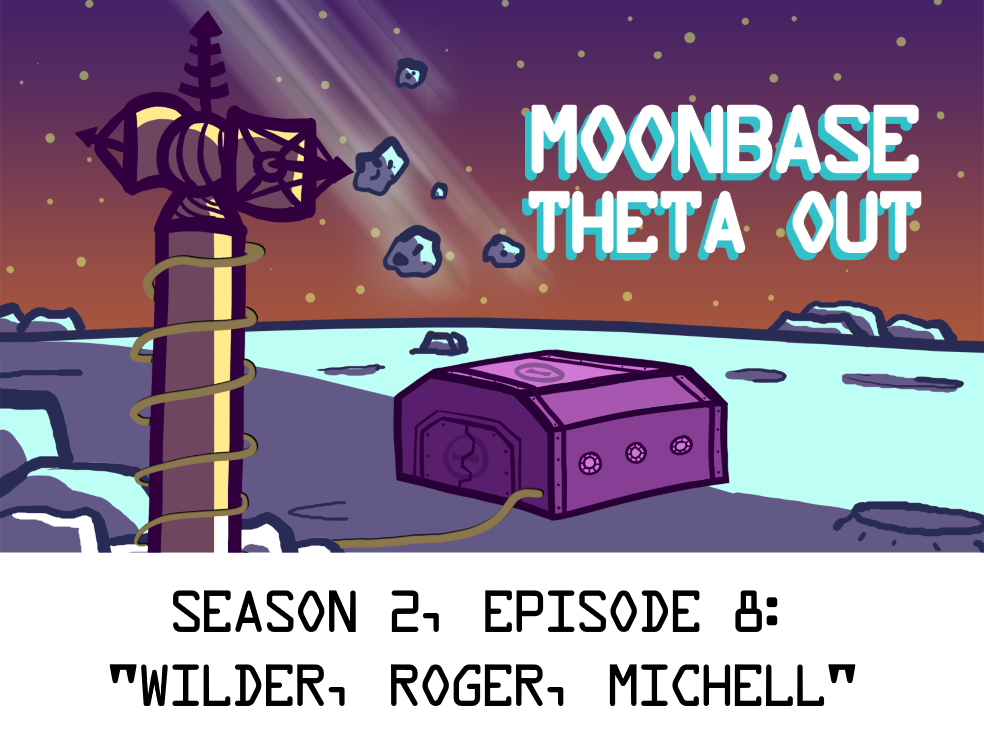 Wilder tries to put herself back together – quite literally, and gets information from a source on Earth. Roger and Michell's private concerns erupt into their very public feud. Michell composes a message to Nessa.
Recommended S1 Episodes for context: S1E15 – "Six"; S1E16 – "Five"

Wilder (she/they) – performed by Tina Daniels (she/her)
Roger Bragado-Fischer (he/him) – performed by Leeman Kessler (he/him)
Michell L'Anglois (he/him) – performed by Cass McPhee (he/they)
Nessa Cheong (she/they) – performed by Elissa Park (she/her)
Ashwini Ray (ze/zir) – performed by Tau Zaman (they/them/their)
D.J. Sylvis (he/they) as Enclave Officer
Special appearance by Chad Ellis (he/him) as Enclave Tech
Written / Produced / Edited by D.J. Sylvis (he/they)

Theme music is "Star" by the band Ramp – http://www.ramp-music.net/. Cover art created by Peter Chiykowski – http://lookitspeter.com/.
You can find more information at https://monkeymanproductions.com/moonbase-theta-out/. You can also find us at Monkeyman Productions on Facebook, and as @MonkeymanProd on Twitter.
You can also support us on Patreon for behind the scenes info and special perks – including a Moonbase prequel miniseries called "Before the Moon" which we just announced, and will be launching late in December to our backers there. You can also donate to us through Ko-Fi, or buy some of our merch. We couldn't make the show happen without you!
Thanks as always for your support, your ratings and reviews, your comments and accusations when we break your heart. It all means so much. See you all in two short weeks.
[powerpress]